Buying a Home: Financing Repairs, Rehab or Renovation
Posted by Rainbow Russell on Wednesday, January 1, 2020 at 8:40 AM
By Rainbow Russell / January 1, 2020
Comment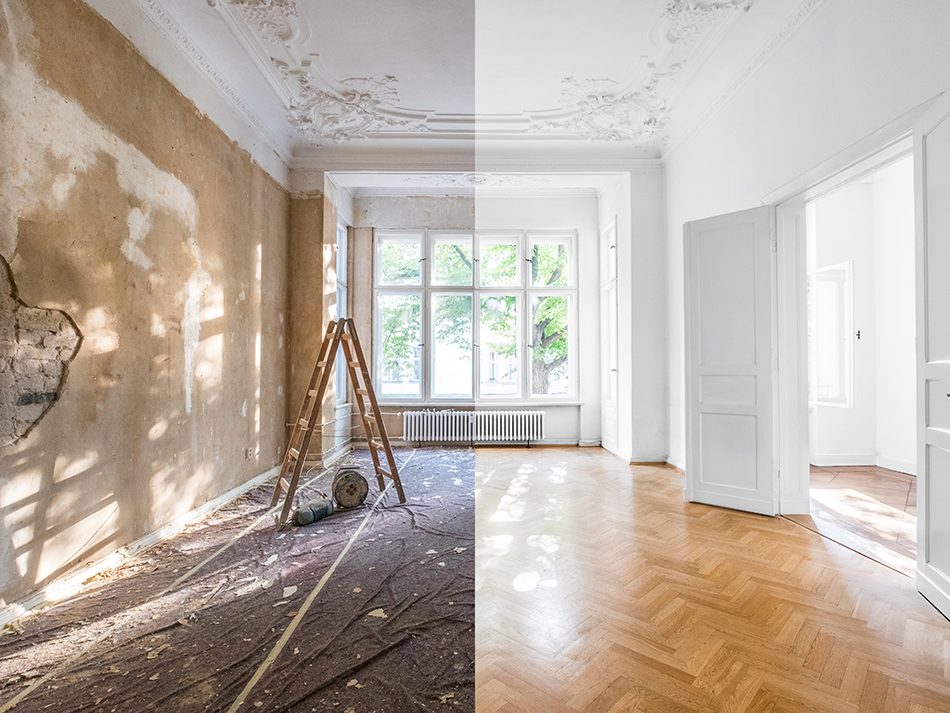 Picture this scenario: The house of your dreams is in livable, if not pristine condition, situated on acreage that also includes a second residence in need of refurbishing and repair. There is an additional outbuilding that is not suitable for habitation but is structurally sound.
The property is bank-owned, and situated in a part of town that would command two and a half to three times the asking price on the open market, based on comparable values. There are no existing appraisal comps because of the unusual conditions, but local realtors in the know assure you that the value is inherent, based on location and the viability of your planned repairs.
However, even with the required cash deposit readily available, acceptable credit, great motivation to buy, and stated intentions to improve the property, you cannot obtain a suitable loan commitment.
It can be a discouraging situation.
Know the Rules: Rehab Financing Can Be Difficult
There are limited mortgage loan programs available to help a potential buyer when dwelling rehabilitation is required, but they are difficult to locate and "quick action" is not a hallmark of such financing options.
Most lenders are wary of financing for (1.) distressed properties that include foreclosures or homes in need of repair; and (2.) properties with more than one dwelling, particularly if they are not in move-in condition. If your goal is to find property that will provide for your living needs as well as provide rental income, you would be well-advised to search out lender options well in advance of your property search. Even then, specific requirements may make loan qualification more stringent.
Bank-owned properties and foreclosures are notoriously difficult to get to the closing table except in cases where an offer is for cash with no contingencies.
Finally, FHA regulations prohibit lending for properties that require extensive rehabilitation or finishing work, except under specialized programs.
Renovation Financing Options
Renovation financing is an old term that has attracted new attention since the housing crisis. Primarily, it paves the way for buyers to purchase a home and "wrap" or incorporate a home repair loan into a primary mortgage. FHA 203(K) loans can be used to accommodate such borrowers, and they may also be used to purchase buildings that contain up to four individual dwelling units.
There is little likelihood, however, that the 203(K) option could be used in the above example. It can be a viable loan option for financing city properties of up to four units, however, and can also be used to create fewer units from former multi-family dwellings. Funding for repairs of either the primary dwelling or additional units is held in a separate fund and disbursed to named contractors who complete repairs according to a specified schedule. Generally, "self-help" and DIY renovation is prohibited in an effort to reduce lender risk, and repairs must be completed within six months.
Fannie Mae home renovation loans are designed to offer buyers a mortgage based on the expected value when the repairs are completed. In effect, they consolidate mortgage funds and construction funds into a single package. Termed a HomeStyle Loan, the Fannie Package requires only a pre-construction inspection and a final walk-through, with no interim supervision or funds disbursement oversight.
Although they are similar, FHA and Fannie Mae requirements differ in terms of interest rates, credit score requirements, and required down payment. There are also differences affecting what type of improvements are authorized. FHA loans disallow use of funds for luxury items such as a pool or spa, while HomeStyle loans do not.
Home Buyer or Investor?
The problem involved with buying a property that has more than one home, from the lender's standpoint, is that the buyer becomes an "investor" in their eyes. Investors fall under different guidelines, and the lending requirements change dramatically. The requirement for "skin in the game" is increased, meaning that you must have more cash reserves, a higher credit score and demonstrated ability to repay, in addition to the ancillary requirements of appraisal value and debt to income ratios.
There may be private lenders willing to talk about loans on the type of property described above. In general, though, such deals don't fly for first-time buyers, no matter how appealing the deal sounds on the surface. In truth, such deals may not even work for experienced investors. That might constitute one of the reasons such properties find their way into foreclosure in the first place.
Real estate is a complicated field. It is definitely an area where knowledge must overcome emotion.
If you are searching for the perfect property, whether it's your first home or the latest addition to an extensive investment portfolio, take advantage of the expertise of your experienced real estate agent & trusted lending advisors. Some rules are made to be broken, but many rules are made to protect you as well as the lending institution.