Buying Vs. Renting: Costs to Consider
Posted by Preston Guyton on Tuesday, August 22, 2017 at 10:01 AM
By Preston Guyton / August 22, 2017
Comment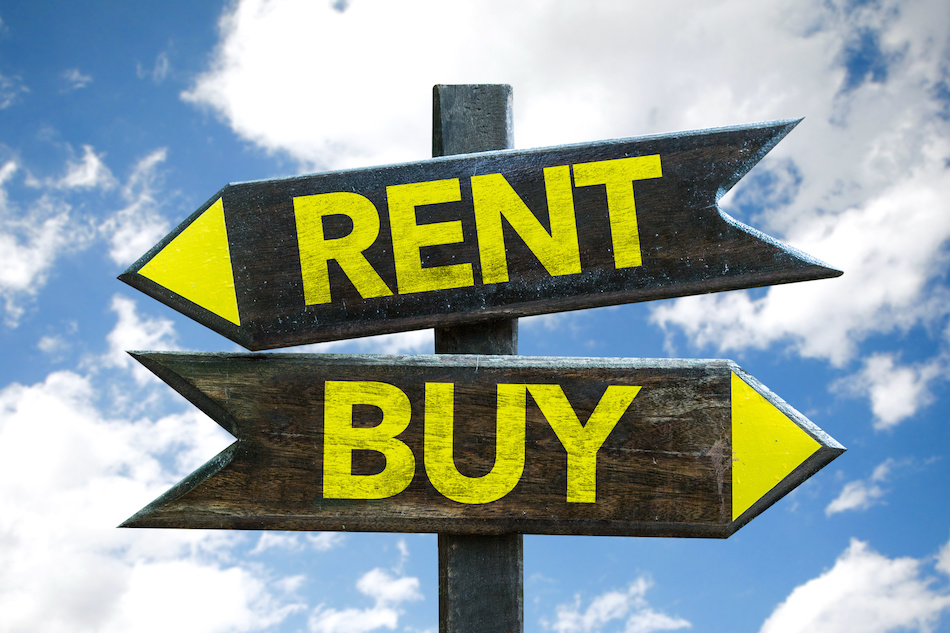 If the decision involved only weighing basic rent against a mortgage payment, the choice of renting or buying might be simple. However, there are a number of other factors, and some costs that you might not have considered when you commit to either a home loan or a year's lease.
While the decision to rent your first apartment may have been a breeze to make, when it's time to weigh the pros and cons of buying a home or condo, continuing to rent that apartment, or signing a long-term lease, there are a host of other considerations, not all of them financial.
Let's look at the pros and cons of each:
Buying
There are the immediate costs of applying for a loan, but you must also tally up and find funds for earnest money and down payment, closing costs that include appraisal and inspection fees, title and mortgage insurance, homeowner's insurance, taxes, possible transfer fees and moving costs. It all adds up and the total can range between two and four percent of the total home price.
Then there are the recurring costs. When you own a home, you commit to the following monthly payments:
Mortgage loan, usually including private mortgage insurance and property taxes;
Homeowners insurance; sometimes this amount is included in the loan, or it may be paid separately;
Utilities, including electricity and/or gas or oil for heating and air conditioning;
Water, sewer, refuse collection and other municipal services;
Cable and internet services;
Yard care, whether you do it yourself pay someone;
Ongoing maintenance and upkeep; wise homeowners budget for unexpected expenses, and for possible future home improvements.
In addition to moving, you may have to purchase appliances, furniture, drapes and decor items. New owners also often want to personalize their new digs within the first year of ownership, whether it's new paint or landscaping.
Renting
Renting, whether it's an apartment or a single-family home, seems simpler on the surface. You sign a lease for a specified period of time, hand over a security deposit, make monthly payments and get on with life.
However, while continuing to rent an apartment in an existing building may (or may not) include such things as utilities, internet and extra amenities, it's almost certain that you'll be responsible for making payments in addition to the monthly rent if you move into a free-standing home in a suburban community.
You will want to budget for:
Security deposit and/or non-refundable damage and pet deposits; very possibly a credit check fee;
First and last month's rent—not at all uncommon;
Utilities, and you might also have to give the utility companies a deposit to transfer accounts to your name;
Cable or satellite, and internet service; again, you might have to give a deposit or sign a long-term agreement;
Moving costs;
Renter's insurance
You may also face incidental and other recurring expenses; for instance, if your apartment or home has no washer or dryer and you don't want to invest in those appliances, you'll have additional laundry expense. If you rent a home, you may have to pay for yard upkeep, even though the owner will be liable for ongoing building maintenance and repair.
On the Plus Side
Primary advantages of buying, of course, include the chance to build equity over time and sell at a profit in the future, as well as the distinct federal and local tax advantages of home ownership. In addition, you have the freedom to make changes at will, to enjoy a sense of community and to build long-term relationships with neighbors and place.
You also might view a first home as a long-term investment, with the option of converting it to rental income for yourself as your financial status improves over time. Owning a home is not entirely without financial risk, but buying a great home in a growing community like Little River can help protect your investment.
Renting, on the other hand, offers more flexibility to make lifestyle changes at the end of the lease term. Relocating for a better job and moving closer to (or away from) family is easier. Even frequent travel for pleasure can be somewhat easier if you rent, especially if you can simply turn the key in the lock and leave.
Renters usually have no responsibility for repairs and maintenance, and need not worry about the ups and downs of the real estate market, even though rental rates are subject to increase. In the end, however, your decision to buy or rent is a personal one.