7 Ways to Stay Organized During A Move
Posted by Rainbow Russell on Monday, September 7, 2020 at 6:10 AM
By Rainbow Russell / September 7, 2020
Comment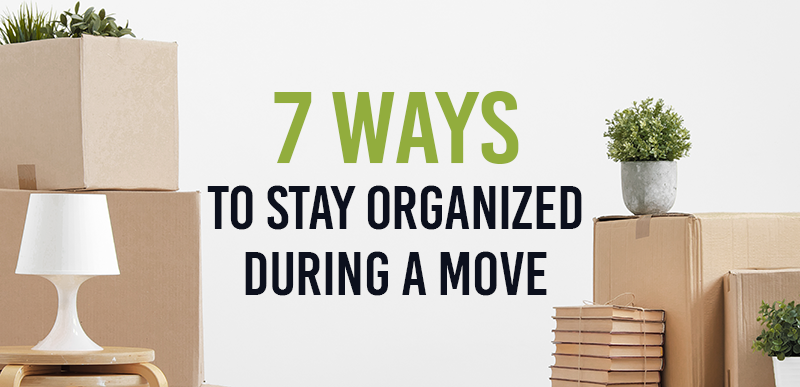 Moving can be a chaotic time. Between packing every last thing into a box, making sure it gets onto the moving truck and then unpacking at the new home, it can be a wonder that anyone is able to keep track of it all. Here are several strategies homeowners can use while moving into a new home to stay as organized as possible.
1. Take Care Of Business
Be sure to cancel your utilities at your current home and set up the necessary steps in your new home. It's just a few phone calls or clicks online but it's an easy thing to forget and no one wants to arrive to a home without power or water – especially in the middle of summer. Change your mailing address with the post office as soon as you have your new address to avoid hassle with new bills, subscriptions and important documents. In addition to this, be sure to keep your important documents in the same place at all times and keep them with you during the move so you know exactly where they are at all times. This includes passports, social security cards, birth certificates, wallets, insurance information and moving documents.
2. Stay Ahead Of The Move
Packing an entire home's worth of possessions is going to take a long time, and there's no way it can be done in the two days before the move date. Starting early can help prevent the rush right before the deadline where everything gets thrown into the nearest box, and it can also allow the homeowner to take inventory of everything they have so nothing gets lost or overlooked. Some pros recommend spending one hour a day dedicated to packing so that you can stay organized and feel less overwhelmed.
3. Get Rid Of Excess & Declutter
Packing to move can be an excellent time to really sort through possessions and weed out things that are old, broken, or never used. Space is limited on the moving truck, so it's important for homeowners to get rid of the things they no longer want or need. This can make packing much more efficient because homeowners don't have to worry about as many boxes making it from point A to point B. Create a list of each place you need to declutter and tackle one room or space at a time then make piles to donate, pitch or take with you. It's also important not to purchase more food or cleaning supplies than completely necessary. Remember – everything you buy and don't use will have to be moved.
4. Tackle One Room At A Time
When packing to move to a new home, it's easy to get disorganized. However, homeowners can help keep everything in order by packing one room at a time. Doing this can make it easier to keep track of what has already been packed and what hasn't, that way if something goes missing before moving day, it's easy to think about what has already been packed and if it would have gone into one of those boxes or not. If you know things are going to a new room in the house, be sure to label them or box them with the same group.
5. Label All Boxes & Bags
With cardboard boxes, it can be nearly impossible to tell what's inside without opening them first. This is why homeowners should always have a marker (and even a few backups) on hand as they're packing, in order to label the boxes. Labeling makes the moving process much smoother because you know exactly which box goes to which room. In addition to labeling, it's just as important to make sure you're using quality boxes that are not stuffed too full. Wheeling suitcases and plastic totes are great for books and heavier items that don't need to be wrapped and can be easily labeled with masking tape.
6. Keep Records Of Items & Boxes
For homeowners who want to go above and beyond with staying organized and keeping track of their things, consider keeping an official record. Use a phone to take pictures of boxes and what's inside them, or just write everything down in a notebook or spreadsheet and fill it out as the home gets packed away. This can not only help with staying organized, but it can act as proof should something go missing during the big move.
7. Double Check Move Dates
Depending on when the move is, it may be a very busy time for moving companies. Summer, for instance, is when movers have the most business, so during these times it's important to both hire movers early and double- or even triple-check the move dates. During such a busy time, schedules can get muddled or companies could accidentally double-book a day. Staying on top of the move date from the very beginning can help make sure that there won't be any unwanted surprises when it comes time to move. Keep in mind some movers and homebuyers for that matter will have concerns about COVID-19, so be sure to ask ahead of time the policies for masks, gloves or other protective gear.
Staying prepared is key!
Moving may seem like a stressful time, but it doesn't have to be. By slowing down and following these simple tips, you can help stay as organized so the move to your new home is as easy as possible.
Still Looking for the Perfect Home?
Our Real Estate professionals can help you determine which community is right for you and find or build the perfect home to suit your needs! In today's busy market, homes are moving fast so working with an active Realtor gives you an insider's edge to new and upcoming listings on the market.